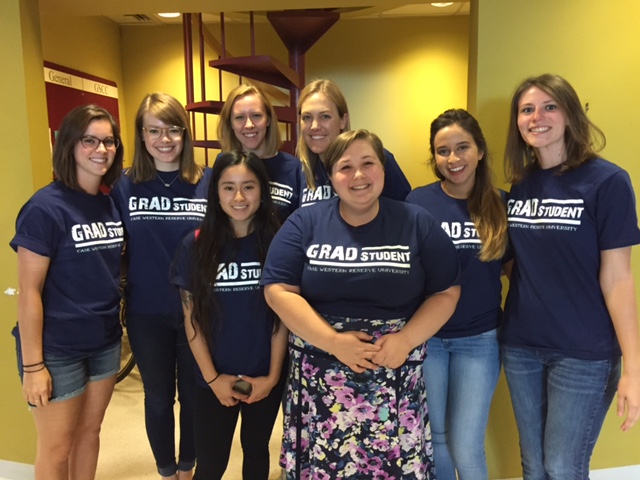 MS in Genetics Counseling
The curriculum consists of 40 semester hours: 22 semester hours of didactic course work and 7 semester hours of research. Additionally, there are four 8-week clinical rotations, one 3-week laboratory rotation and one 6-week summer clinical rotation required of all students, which provide an additional 11 credit hours.

MS/MA in Genetic Counseling and Bioethics
The Departments of Genetics & Genome Sciences and Bioethics offer a dual degree program between the Masters in Genetic Counseling and the Masters in Bioethics Programs. The dual degree program provides a comprehensive curriculum integrating foundational principles of genetics and ethics.

Faculty Leadership
Read about the Genetic Counseling Training Program's Leadership.

How to Apply
Interested in Applying? Read about how to apply to Case Western Reserve University's Masters of Genetic Counseling.

Introduction and Program Goals
The Genetic Counseling Training Program, leading to a Master of Science degree in Genetic Counseling, is a two-year academic program comprised of didactic course work, laboratory exposure, research experience and extensive clinical training. The program, directed by Anne L. Matthews, R.N, Ph.D., is an integral component of the teaching and research programs in the Department of Genetics and Genome Sciences (G&GS) at CWRU under the leadership of Dr. Anthony Wynshaw-Boris, MD. Ph.D., chairman of G&GS. Program leadership also includes Rebecca Darrah, MA, MS, PhD, Associate Director and the program's medical director, Anna Mitchell, M.D., Ph.D., Associate Professor of G&GS and Medical Director of the Center for Human Genetics, University Hospitals Cleveland Medical Center. The Program is accredited by the Accreditation Council for Genetic Counseling (ACGC) and graduates of the program are eligible to apply for Active Candidate Status and sit for the American Board of Genetic Counseling certification examination.
The overall objective of the Genetic Counseling Program is to prepare students with the appropriate knowledge and experiences to function as genetic counselors in a wide range of settings and roles. With unprecedented advances in our understanding of the genetic and molecular control of gene expression and development, and in our ability to apply this knowledge clinically, the Program strives to train students who can interface between patients, clinicians and molecular and human geneticists. Students gain insightful and multifaceted skills that will enable them to be effective genetic counselors, aware of the many new technical advances and often-difficult ethical, legal and social issues that have surfaced in the light of the Human Genome Project. Graduates of the Program will be prepared to work in a variety of settings including both adult and pediatric genetics clinics, specialty clinics such as cancer genetics, cardiovascular genetics and metabolic clinics, and prenatal diagnosis clinics, as well as in areas of research or commercial genetics laboratories relevant to genetic counseling and human genetics.
A unique aspect of the Genetic Counseling Training Program is that it is housed within Case Western Reserve's Department of Genetics and Genome Sciences, which is internationally known for both its clinical expertise and cutting edge research in molecular genetics, model organisms and human genetics. Thus, the Department of G&GS at CWRU provides an interface between human and medical genetics with basic genetics and provides an exciting atmosphere in which to learn and develop professionally. The direct access to both clinical resources and advanced technologies in human and model organisms affords students with an unparalleled environment for achievement. The Graduate Program in Genetics in the Department of Genetics and Genome Sciences provides an interactive and collaborative environment for both pre (genetic counseling and PhD students) - and post-doctoral trainees to come together in a collegial atmosphere. By fostering interactions between pre- and post-doctoral trainees in genetic counseling, medical genetics, and basic research at an early stage of their careers, it is anticipated that graduates will be well-rounded professionals with an understanding of the importance of both clinical and basic research endeavors. Moreover, such resources as the Department of Biomedical Ethics, the Center for Genetic Research, Ethics and Law, the Mandel School of Applied Social Sciences, and the Law-Medicine Center provide for an enriched learning experience for students.
Last update on: 11th July 2018